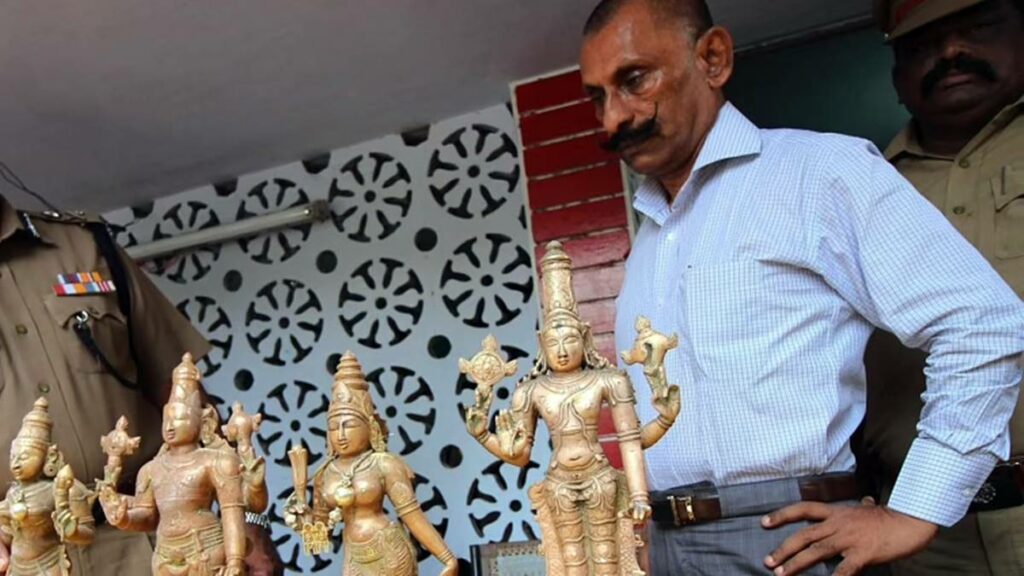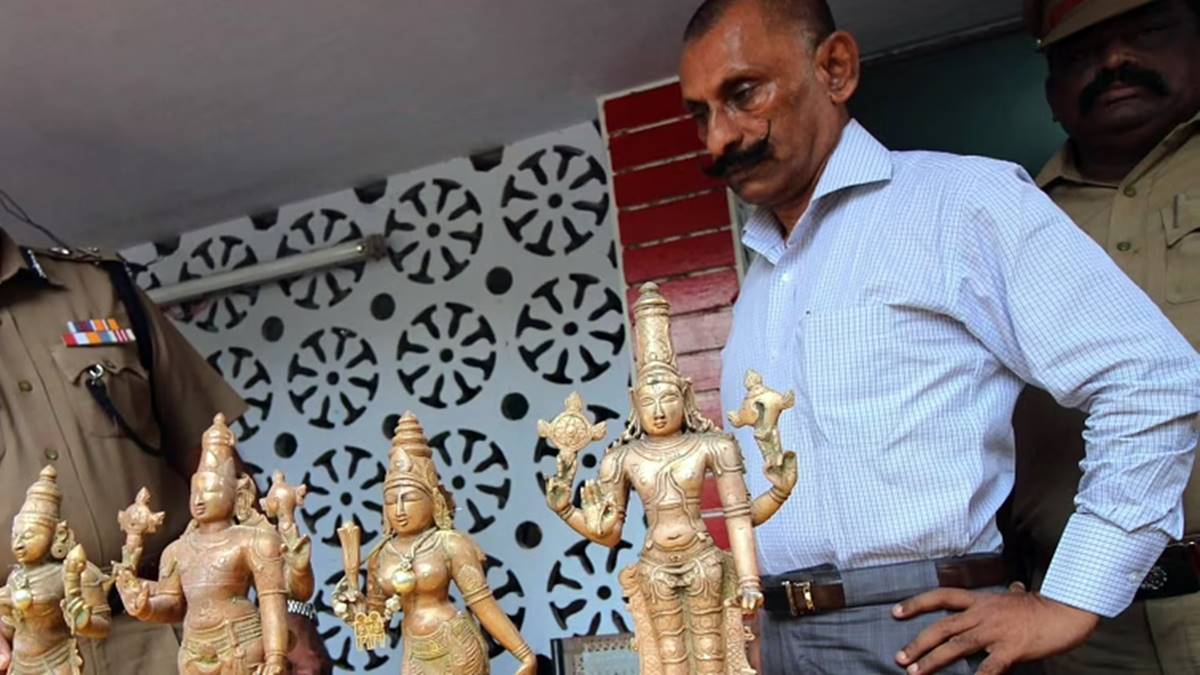 — TS Venkatesan
Three temples in Villupuram and one in Kancheepuram district have vanished:
former IPS officer- idol wing AG Pon Manickavel
Tamil Nadu is known as the land of temples-t many of them are ancient and are of rich heritage value. But these temples have become a den for the corrupt politicians in collusion with the government officials to swindle money from the devotees in the name of God. Even a sitting High Court judge can be duped and extorted by these corrupt officials.
There have been complaints of encroachment, missing idols, theft of rare idols, looting temple funds for expenses other than they were intended etc. These movable things go missing, can be burgled. But immovable ones like temples go missing is an unknown one and is shocking every god loving citizens.
Pon Manickavel had served as the Inspector General of Police- Idol wing and as the special officer of the Madras High Court appointed investigation team which cracked several cases of stolen idols and artefacts from the TN temples.
According tohim "under the magic wand of Hindu Religious and Charitable Endowments Department (HR and CE ) three temples in Villupuram and one in Kancheepuram districts have gone missing.
This has happened at a time when there have been vociferous demand for freeing the temples from the clutches of HR and CE due to alleged maladministration, irregularities in managing temple funds, alienation of its properties and failed to recover encroached temple properties, wealth and rent arrears. It is alleged more than 50,000 acres of prime property belonging to temples have vanished without any trace and more than 6,000 antique and ancient idols too have gone missing from the temples in the state during the 70 years of Dravidian rule. Mohanraj, who has questioned the propriety of the police in not registering the cases, said " both the AIADMK and the DMK do not want the police to expose the people who played a key role in taking away the idols, artistic temple pillars and walkways which have heavy stone inscriptions in them" .
Pon Manickavel, who was the idol wing chief and succeeded in bringing back antique and ancient rare idols from foreign countries and retrieving hundreds of idols from smuggling gangs, faced a lot of trouble. The High Court appointed officer faced a lot of hurdles not only from the rulers but also from his own colleagues. Cases were foisted against him, petitions were filed to remove him from the post. He fought the cases upto SC and retired now still facing some cases which are pending. This dare and indefatigable police officer now is in the job of collection information of temples, idols including the missing and burgled ones.
Recently ( on 26th ) he met media in Chennai . He said three ancient temples in Thirunavalur town in Villupuram district go missing in the last few decades.He said " I have been surveying the 38 Chola era temples in the Villupuram distrt. I have completed the survey in Thirunavalur. According to the British regime records, there are existence of three Saivaite temples and a Vaishnavite temple. British officials in 1902 prepared this record. But only one temple exists now while there is no trace of other three – Kali Narishwaran, Agatheeswaran and Thirumetrali Mahavishnu temples".
The former Idol wing chief said Kalinarishwaram temple belongs to Pallava period , existing even before the Chola era,built around 1,170 years while the Thirumetrali Mahavishnu temple had been a place of worship during Parandhaga Chola I and the temple was partially damaged. "the main deity and processional and other belonging of the temple have been stolen. Two panchaloga idols from the Vedapuriswarar temple in Emapur near Thiruvennai Nallur were stolen seven decades ago. This should not be handled by idol wing CID but a special team of retired judges and police officers " Pon Manickavel said.
In December last year, he filed a complaint in the Baluchetty Chatram police station saying that an Ancient Perumal temple in Govindavadi Agaram which was constructed by the Cholas went missing but it was even left unnoticed by the HR and CE department. In his compliant, Pon Manickavel said Ponn Manickavel said that he had filed a 12-paged complaint with the police station and he said that there were valuables and idols worth crores in the temple and could not believe how the people forgot about the temple. He said that many idols along with temples have gone missing in Tamilnadu and he would find them all before he breaths his last.
He said "there was a 1,071-year-old Nindru Arulina Uyya Konda Azhwar Perumal Temple between Govindawadi and Tirumalpur which apparently disappeared 40 years ago. It was reportedly kept off the radar of the government for more than 30-40 years after the idols were stolen. The existence of the temple was documented by European epigraphists during the pre-independence period. According to Ponn Manickavel's complaint, no information about the temple theft was reported to the police as well.
In Last July , Pon Manickavel has urged the TN government to take up with the Karnataka counterpart on the issue of missing temple built 949 years ago by a descendant – Sri Udayar Rajadhi Raja Devar-I , the grandson of of Rajaraja Chola-I , in the modern day Tumukuru (Tumkur) district. He established a town named "Rajendra Cholapuram at Kunigal. Five KMs from the village , at KKotegiri he built a temple named " Rajendra Chzhiswaram". He donated a rare bronze Nataraja idol, valuables and stone idols. In this connection he had written a letter to HR and CE minister PK Sekhar Babu and officers of the HR and CE department. He said "the ancient temple can no logner be found in the village and stone inscriptions about the temple were ignored and found lying near a recently built temple in the village. The bronze and stone idols were found missing from there".
Pon Manickavel has urged the TN government to take it up with Karnataka besides filing a police complaint about the missing idols. He also wanted the area where the temple stood to be declared a protected monument" . But it is learnt nothing moved in that direction.
In 28 September 2018, Pon Manickavel led team seized 90 ancient temple idols from the residence of a businessman at Sree Nagar Colony at Saidapet in Chennai. Pon Manickavel, the Inspector General of Police who led the raid told reporters later that all the idols seized were hundreds of years old and were precious.
Based on a tip , in August 2016, a team of officers led by Pon Manickavel raided a house and godown in Teynampetand seized to 300 stone and bronze idols, wooden artefacts and paintings from G. Deenadayalan – 200 from his own home and another 100 from his godown.
The seizure of the idols took place at a time when temple worshippers complaining to the Madras High Court that more than 6,000 idols belonging to temples administered byHR and CE department have gone missing. The HR and CE Department officials who are entrusted with the upkeep of the temples remained silent as idols started disappearing from the temples. The officials are yet to furnish the details of 50,000 acres of prime temple lands which too went "missing" from Tamil Nadu temples. The Madras High Court had directed the officials to furnish within six months the whereabouts of the temple land which were usurped by politicians and others with the active connivance of the temple officials.
In February 20, the Madras HC has issued notice to HRa and CE joint director to file reply in connection with the missing of 400 sovereign of gold jewellery from a temple under its administration in Sivaganga district. While hearing a petition filed by the priest Karuppaiah of Kaliamman temple at Irumadhi village near Thidakkottai. He said out of 500 sovereign gold jewellery now only 100-120 sovereign availabl and despite repeated request,pit person is yet to be appointed. He also sought a direction to HR and CE from taking full control of the temple and misuse of its funds.
Justice SM Subramaniam of Madras High Court had gone to the Vadapalani Murugan Temple with his family on 17 December 2022 without disclosing his identity. He had paid Rs150 for three special darshan tickets but was given two ₹50 and one ₹5 ticket. ₹45 went swaha!
When he questioned about the irregularity, the temple staff behaved rudely. He and his family were intimidated and gheraoed. The judge had noted that would've been pushed out like the officials do with others had the police not intervened and disclosed his identity.
This is the plight of a judge who voices out against the corruption plaguing inside the temples, courtesy the HR&CE department.
The apex couyrt on 28th February issued notice to the TN government in a petition seeking a Special Investigation Team (SIT) probe into the alleged disappearance of 41 case files pertaining to idol theft case from policy custody. The petitioner Elephant G Rajendran has sought a free and fair probe into the circumstances leading to the files allegedly going missing. The team should be led by a senior retired police officer and monitored by the court.
It is pertinent to note a direction of the Madras High Court in June 8 , 2021. In a 224-page judgment, the Madras High Court on Monday (June 7) issued a set of 75 directions to the Tamil Nadu government for the maintenance and protection of historical monuments and ancient temples. The suo motu case was initiated by the then Chief Justice Sanjay Kishan based on a reader's letter called 'The Silent Burial' published in a leading English daily.
A division bench of Justices PD Audikesavalu and R Mahadevan said "the custodians of grand and antique temples and ancient monuments are least bothered and the conservation of our valuable heritage is deteriorating not due to any natural calamity or catastrophe, but due to reckless administration and maintenance under the guise of renovation." The Bench slammed the Hindu Religious and Charitable Endowments and the Archaeology Department for its failure in safeguarding antique idols, and temples. There have been slew of directions including retrieving temple properties. They remain only in papers and the government, it seems,is not serious.
In October 2021, despite strong opposition from the public and devotees, the DMK led M K Stalin government is bent on implementing the scheme of melting temple jewellery into gold bars to be kept in bank vaults. According to HR and CE Minister P Sekar Babu, there are about 38,000 temples that have 2,000 kg of gold worth Rs.10,000 crore. TN government has proposed to melt 2,137 kg of gold jewellery at the government mint in Mumbai into bullion, which would then be deposited at nationalized banks.
This is the sorry state of affairs of temples and its properties.  The government is more serious in tinkering with its rituals, restrictions on temple festivals, diverting temple funds etc.  The only solution is the Dravidian model secular government to the management to the devotees or  a team comprising devotees, experts, former IAS, IPS and HC, SC judges.